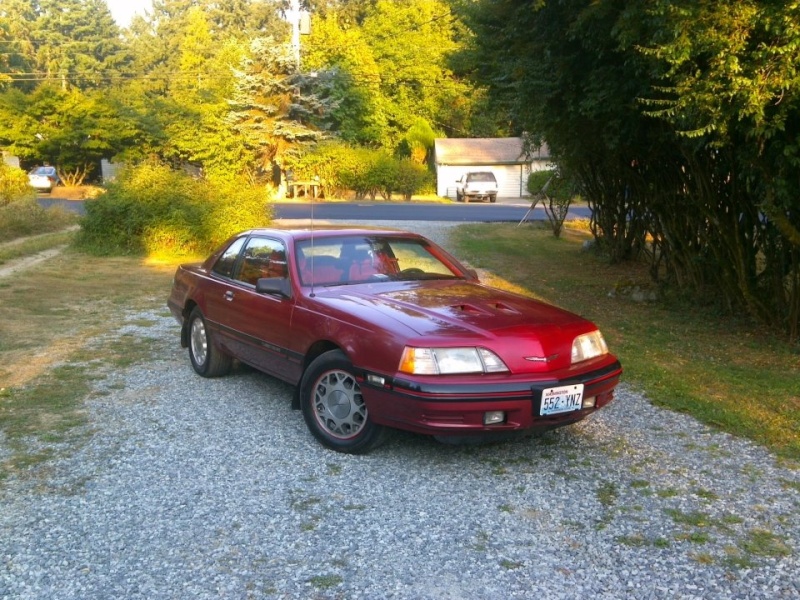 This is my 1988 Ford Thunderbird Turbo Coupe
All Original Except aesthetic modifications such as Wheel Stripes and new inside door pulls and the front end is repainted due to rock chips everywhere. Now its about at 118K which isnt bad at all for a 23 year old car that was a daily driver by the previous owner. The Previous owner bought this car in 1988 online went to Ohio on a business trip and bought this brought it back here to Washington state so im only the 2nd owner of this lady in red (that's what i call her).
For some that may not know the Turbo coupe was made in 1983-1988, 1987 was Motortrends car of the year 1988 was special because The turbo was higher PSI being 15 Psi from the 1987 being 10 I think. the engine the turbo runs on is a 2.3 4-cylinder making 155 HP iv'e been told on the Autmatic Trans. Car is considered a Fox Body but only shares minor things with the SVO and Liftback Foxbody mustangs.
My future plans are pretty simple with car I got the car for the luxury of it not performance, I might get a K&N system to improve my MPG and im gonna add a Dual Exhaust since the Automatic wasnt blessed with one. Thinking of getting a set of Mustang Pony Wheels and Modify them to fit my center cap possibly (most people get Cobra R wheels) Other then that id like to just maintain and restore her to a original functioning and looking way. Shes fun to drive id be happy to answer and questions or comments